| | | |
| --- | --- | --- |
| " | That's what he told me, he never talked to her. He said he saw her out the window taking pictures. | " |
| | ~ Andrew Colborn | |
Andrew (Andy) Lee Colborn is a retired sergeant for Manitowoc County Sheriff's Department. His involvement with Steven Avery began, unbeknownst to Colborn, in the mid 90's when he received a phone call from a Brown County officer who stated someone in Brown County's custody may be guilty of an assault somebody in Manitowoc County is now in jail for. According to Colborn no names were mentioned. He gave the caller the phone number of the detective unit and may have forwarded the call. Roughly a decade later Colborn became involved with Avery again when he assisted Calumet County Sheriff's Department in their investigation of the death of Teresa Halbach, which had led them to Avery's Auto Salvage, where Avery lived and worked.
Together with his Manitowoc County colleague James Lenk he is credited with the discovery of the Toyota RAV4 key to Halbach's vehicle in Steven Avery's trailer. However, Steven Avery's defense and many viewers of Making a Murderer argue that Colborn and Lenk planted the key in Avery's trailer, after previous entries allegedly provided unsufficient results. It is also argued that Colborn was involved with discovering and planting the victim's vehicle and planting Avery's blood inside it from a 1996 vacutainer.
Early life
[
]
In the 1980's Colborn, in his twenties, was with the US Air Force until the early 90's. From 1992 through 1996 Colborn, now in his thirties, was a non-sworn, non-law enforcement corrections officer with the Manitowoc County Sheriff's Department (MTSO).[1] In his capacity as a corrections officer Colborn's responsibilities related to security of the jail.[1] The Manitowoc County Jail is a seperate division within MTSO.[2]
In 1994 or 1995 Colborn received a phone call from a detective from Brown County who asked if he could speak with a detective from Manitowoc County Sheriff's Department about an assault that occurred many years earlier in Manitowoc County.[2] According to the calling detective a jail inmate of theirs told a fellow inmate that he was responsible for a sexual assault for which another man was convicted. No names were given.[2] Being a corrections officer, and not a sworn law enforcement officer, Colborn had no authority to look into the matter. Subsequently Colborn transferred the call to a detective unit and had provided the caller with the detective unit's phone number in case the call went unanswered or was lost in the transfer.[2] Colborn later heard that higher-ups at MTSO had given assurances that the right man had been convicted.[2]
In 1996 Colborn became a sworn law enforcement officer with the MTSO.[1]
In September of 2003 Steven Avery was released due to DNA testing after being wrongfully convicted for the beach assault against Penny Beerntsen. According to Colborn this was the first time he learned of Avery's wrongful conviction.[2] At that time Colborn recalled his 1994/1995 phone call from another jurisdiction's detecive and surmised it may have been related to the Avery case.[2] After bringing this up to his superior James Lenk and later, at the direction of Sheriff Ken Petersen, Colborn wrote a statement (often believed to be a report, which it was not) memorializing the phone call as part of Petersen's plan to provide a complete, accurate and transparent account of the circumstances surrounding Avery's wrongful conviction.[2] Colborn's statement and all other related documents were given to the Wisconsin Attorney General for her independent review on the case.[2]
In 2005 Colborn became a patrol sergeant with the MTSO.[1] He was also an assistant shift commander working from 8PM to noon.[3] Colborn worked a six days, three days off rotation.[4]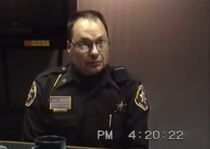 In October later that year Colborn gave sworn testimony in Avery's civil lawsuit. Colborn's testimony was about a phone call he received in the mid 90's and the statement he wrote about it in 2003.[5]
Colborn was familiar with the Avery's Auto Salvage business. He has personally been a customer of the business in the late 90's when he needed parts for his 1950 Chevrolet pickup truck, he's had to make contact there through his job as a law enforcement officer and he has children that are about the same age as some of the Avery children and they went to the same school.[6][7] Earl Avery, Steven's younger brother, described Colborn as his "buddy". Whenever Colborn was at the salvage yard he would have contact with either Chuck Avery or Earl Avery.[8]
2005 Missing person search
[
]
On 3 November 2005 photographer Teresa Halbach was reported missing at Calumet County Sheriff's Department (CASO).[9] When Calumet's investigators learned Halbach had been in Manitowoc, the MTSO was notified. Colborn was contacted by Calumet County Investigator Mark Wiegert (who was transferred to Colborn via MTSO dispatch center)[10] and was asked to check out an address on the Avery's Auto Salvage property because investigators had discovered Halbach had been at the salvage yard to photograph a vehicle for a customer known as "B. Janda".[10][11]
When Colborn arrived at Avery's Auto Salvage, around 18:30 ~ 19:00 hours,[12] he decided to head to the residence of Chuck, one of the two Avery's he knows best, and ask him about the missing person.[8] As soon as Colborn got out of his car he heard someone approach him from the Allan and Dolores residence, which happened to be Steven Avery.[12][13] Colborn asked Steven if he had seen a photographer come to the property to photographer a vehicle. Avery said she had been there to take photos of a vehicle that his sister was selling. She had been there around 14:00 ~ 14:30 hours for 5 to 10 minutes and then left. Colborn asked Steven if he knew where she was headed next and Steven responded he never talked with her.[14] He saw her out the window taking pictures.[15] Colborn informed Avery that Halbach's family and friends were getting worried and asked if he was sure she didn't mention where she might've been headed after she left Avery's. Avery again said "I didn't talk to her" and that she left after a few minutes. As Colborn returned into his patrol car Avery told him he hopes she would turn up soon. Avery was described as cooperative.[15]
Colborn left and briefed his superior Greg Schetter about his meeting with Avery. Upon his return to the MTSO Colborn spoke with detective Dave Remiker and informed him of his conversation with Avery. Later that evening it was decided that Colborn, Remiker and Calumet County detective John Dedering were to make contact at with the Zipperer family, who also had an appointment with Teresa on the day she disappeared.[16][17] It took about 15 minutes to make contact with father George and son Jason, and George was not very co-operative initially either. The investigators learned that Jason had placed an advertisement for a Trans Am vehicle he wanted to sell and they had received a phone call from a female who wanted to come over to take a photo of that vehicle for the advertisement. George's wife JoEllen joined in, but had difficulty recalling the details of the appointment. She remembered a voicemail message left by Teresa. Dedering was allowed to listen to the voicemail and was able to make a determination on how late Halbach must've arrived there. Colborn and Dedering were shown the vehicle to sell by Jason, but located no items of evidentiary value.[17]
JoEllen told the investigators she had contact with the female photographer when she arrived, showed her where the vehicle was and later saw her leave again. She also left some paperwork on the property with a date, but no time.[17]
At about 22:30 ~23:00 hours Colborn checked out. The next several days Colborn was supposed to be off.[18]
2005 Halbach homicide investigation
[
]
On 5 November a volunteer searcher located Halbach's Toyota RAV4 on the Avery's Auto Salvage property, after being given permission to search it by Earl Avery, the only Avery on the property that day. Calumet County Sheriff Jerry Pagel is informed and law enforcement heads to the scene. This changed the search for a missing person to a criminal investigation. Colborn is called in the afternoon by the shift commander and requested to go to Avery's Auto Salvage property. Colborn arrives there at around 15:15 ~ 15:30 hours.[19] Before he begins actively participating in the case he is asked to drive a colleague of his back to the MTSO office.
Before Colborn got actively involved several things have already been noted and decided:
5 November
[
]
Upon returning to the salvage yard Colborn was directed to a certain area and tasked to provide scene security for about an hour.[26] After completing this task, and as Colborn is about to head home, he has advised by MTSO colleague Remiker to see co-lead investigator Mark Wiegert of CASO. Wiegert asks Colborn if he is a trained evidence technician, which Colborn confirms he is, since 1997.[27] Following the conversation Colborn was requested to assist CASO sergeant Bill Tyson, along with Remiker and James Lenk. The group was tasked to search Steven Avery's trailer.[28][29]
Once inside the trailer all men stayed together within an arms reach. There was not something specific that they were told to look for yet. On this day Colborn took the photos. When the four men were inside Avery's bedroom Colborn inspected a record cabinet next to a desk. Inside the record cabinet Colborn found handcuffs and leg irons.[30][31] The investigators also noted a gunrack above Avery's bed with two firearms on it; a Marlin Glenfield .22 caliber rifle and a .50 caliber muzzleloader with the name "Steve" written on it.[32] That evening all rooms in the trailer were checked. The searching of the trailer concluded Colborn's first day.[33]
6 November
[
]
Colborn was requested to come back to Avery's Auto Salvage property. He got assigned to CASO deputy Daniël Kucharski along with his MTSO colleagues Lenk and Remiker and the team was requested to do a "non-thorough" search of Steven Avery's garage.[34][35] The team immediately noticed roughly a dozen spent shell casings lying on the floor which were photographed and collected. The team was assigned to inspect Avery's Ford pickup truck next. Inbetween Colborn assisted another team with photographing several burn barrels that were collected as evidence.[36][37] During the inspection of the Ford pickup truck Colborn and Remiker were requested to head to Maribel Caves Park where a volunteer search party found some things. Colborn assisted in collecting the items.[38]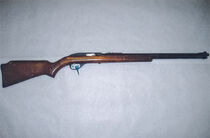 Upon his return Colborn and the team were requested to return to Avery's trailer to collect two earlier spotted firearms, a vacuum cleaner and bedding.[39] The team also searched the Avery's Auto Salvage office building and the residences of Chuck Avery and the Dasseys/Janda's, which all were general searches looking for obvious indicators of Halbach. In the Dassey/Janda residence Colborn was present when Remiker found an answering machine with a message from Teresa Halbach.[40]
7 November
[
]
Colborn was again requested to assist with the investigation.[41] Early in the morning Colborn, with MTSO colleague Lenk, was assigned to assist CASO sergeant Bill Tyson. Their initial task was to inspect trunks of vehicles that hadn't already been opened.[42] After completing this task the team was requested to go back to Steven Avery's trailer and collect the serial number of Avery's computer, which was inside Avery's living room. The team was inside the trailer for seven minutes and left after obtaining the serial number.[43][44] Next, the team was asked to collect firearms that were found in the Dassey/Janda residence. Colborn was also asked to photograph a burn barrel on Steven Avery's property.[45]
At some point during the day Colborn was requested to head to Kuss Road, a cul-de-sac road across the quarry behind Steven Avery's residence. Part of the soil looked like a potential burn site. Colborn was asked to assist in case the State Crime Lab needed someone to excavate the area. It turned out to be nothing. This concluded Colborn's day.[46] Colborn was again requested for the next day.[47]
8 November
[
]
Colborn and Lenk were assigned to assist CASO deputy Kucharski on Tuesday the 8th of November. The team was instructed to check out Steven Avery's trailer for a "thorough" search, meaning items can actually be (re)moved this time. While there they were to unwire Avery's computer and prepare it for pick up and take swabs from previously spotted blood stains that the crime lab said needed to be collected.[43][48] In the bedroom Colborn did a thorough search of a record cabinet next to a desk. Suspecting there may be items of evidence between the desk and the record cabinet he moved the record cabinet away from the desk. Rummaging through the record cabinet continued after it was moved. Numerous pornographic magazines were collected by CASO Deputy Kucharski, other items were put back in the record cabinet after which the record cabinet was put back in its original position.[49][50][51] Lenk left the bedroom to get some evidence bags from the living room. Upon his return Lenk noticed a key lying next to the record cabinet that the team hadn't seen earlier.[50]
Because of the Toyota-emblem on the key handle and the fact the victim had a Toyota vehicle the team understood this item may be of significant value.[52] The Command Post was notified of the discovery.[53] The key was packaged and sent to the crime lab in Madison.
Later that day Colborn assisted in searching the residence of Chuck Avery.[54]
9 November
[
]
Colborn, together with MTSO colleague Lenk, was assigned to CASO Deputy Wendling. The team was asked to retrieve women's gloves from Avery's trailer, two hammers behind Avery's garage,[55] and a remote controller for the garage door as they were also tasked to search Avery's garage,[56] This concluded Colborn's role in the investigation.
2007 Steven Avery trial
[
]
Colborn gave testimony on day 7 of Steven Avery's trial (20 February 2007).
direct examination
[
]
Prosecutor Kratz asked Colborn about his career so far. Colborn explained he had previously been with the US Air Force and in the early 90's he joined the MTSO as a corrections officer. In the mid 90's he got his first job as a law enforcement officer, also with the Manitowoc County Sheriff's Department.
Kratz and Colborn went though Colborn's involvement in the Avery case day-by-day, allowing Colborn to explain each time he was on the salvage yard he was assigned to a team led by a CASO employee and each time he came to the salvage yard it was because he was asked to by CASO. Colborn explained he was a trained evidence technician, of which there was a shortage.
Colborn was asked about his October 2005 deposition in Avery's civil lawsuit and what it was about. Colborn explained he received a call from a detective from another county who believed he was speaking to a police officer. The detective explained they had someone in custody who may have done something that someone MTSO had in custody for. Colborn, without any authority to handle this matter, transferred the call to the detective unit and also gave the caller the unit's phone number.
Kratz asked if that is Colborn's only connection with Avery. Colborn confirmed. Kratz asked if this caused Colborn to have enough embarrassment and angst to want to frame Avery for murder. Colborn declined.[57] Kratz asked if Colborn planted evidence against Avery. Colborn declined and said that's ridiculous.[57]
cross-examination
[
]
Attorney Strang asked Colborn about training programs he has followed, which were an evidence tech training in 1997 and a 10-week Defense and Arrest Tactics (DAT) training. Strang asked Colborn if he decided to run for the position of sheriff in 2006, to which Colborn answers yes.[58]
Strang switches to the subject of Colborn's October 2005 deposition in Avery's civil lawsuit and the mid-90's phone call Colborn received. Strang asked Colborn if he ever had any concern he might be added as a defendant in Avery's civil lawsuit. Colborn said the thought crossed his mind.[59] Strang asked if Colborn ever considered if his race for sheriff might be affected by being added as a defendant. Colborn said he did not.[60]
Strang brings up Colborn's meeting with Avery on the 3rd of November, 2005 and points out Colborn didn't write a report about it until June 2006. Colborn explained he thought the lead investigative agency, Calumet, did the report, until he was notified in 2006 that Manitowoc had its own summary report and he had to write an entry to it.[61]
Strang asked Colborn if he saw Avery bleeding on 3 November, or noticed a cut and Colborn said he did not notice any injury.[61] Strang points out Colborn was interviewed in 2007 by Investigator Steier about his role in the case. When Colborn was asked about his off day, Friday 4 November, he responded he couldn't recall everything he did that day. Strang plays a phone call for the jury from Colborn to dispatch where he asks them to check a license plate number and if it is a 1999 Toyota. Colborn says he believes this phone call occurred on Thursday 3 November, probably after receiving Wiegert's phone call. Strang then asks Colborn if he was looking at the plates when he called them in and Colborn says he was not.[62] Strang asks Colborn if he understands this call sounds as if he is actually looking at the RAV4, but the prosecution objects and the judge sustains the objection.[63] Strang asks if this call was like hundreds of calls Colborn made and Colborn answers yes.[63]
Strangs points out Colborn said he arrived at 17:00~17:15 at Avery's on 5 November, but in a pre-trial hearing in 2006 he said it was around 18:00~18:30 hours. Colborn explains this is due to him having tried to reconstruct a timeline since the pre-trial hearing.[64]
Strang discusses Colborn's report again. Strang points out Colborn's report entry on November 8 is less than half a page and makes no mention of the discovery of the key, unlike Colborn's later entry. Strang wonders if there were certain matters Colborn did not want to commit to paper. Colborn denies.[65]
Strang asks Colborn if he ever wrote a report about the mid-90's phone call. Colborn said he did not. Strang says he did in 2003, but Colborn responds that was a statement, not a report.[66]
redirect examination
[
]
Kratz asked Colborn if he would have written a report in the mid-90's what it would have been about. Colborn explains that he wonders about that too and if he had to write a report about each call that came in he would be writing reports all day. Kratz asks if the caller mentioned the name of the person he was talking about it. Colborn responds no names were given. Kratz asked Colborn if he knew the call was about Steven Avery. Colborn said he did not.
About the license plate phone call Kratz asked if it's common to verify information provided by another agency. Colborn responds it happens all the time. Colborn explains you're driving a car and can't make notes while doing so, so he tries to get the information in his head. The call to dispatch helped with doing that.[67]
Referring to Strang's questions about 4 November, Kratz asked Colborn if he had been near the salvage yard that day. Colborn said he hadn't.[68]
recross-examination
[
]
Strang asks how many calls Colborn has received suggesting the wrong person was in jail. Colborn says he doesn't recall any others.[68]
After Making a Murderer

[

]
According to Colborn his life and the life of his family drastically changed following the release of Making a Murderer on Netflix. Before its release a Google search of his name would've revealed two news articles about local crime.[69] The same search now yields more than 1.8 million hits, nearly all of them painting Colborn in a negative light.[69]
Fans have discussed Colborn's alleged culpability in the supposed scheme and have castigated him online.[70] Colborn has received serious threats to his and his family's safety; has been subject to recorded telephone threats, and has received numerous late-night telephone calls in which callers have screamed profanities and threatened to do him physical harm.[71]
Colborn says Avery sympathizers have threatened to kill him as well as members of his family, kidnap and sodomize him and gang rape his wife. Photographs of Colborn's children have been posted online by Making a Murderer viewers.[71] Due to these threats of violence against him and his family Colborn feels he needs to be constantly alert of danger and feels he needs to be more cautious and guarded. As a result Colborn claims to suffer from severe emotional distress, anxiety, and exhaustion.[71]
In 2018 Colborn decided to sue Netflix, filmmakers Laura Ricciardi and Moira Demos and their company Chrome Media. Colborn is being represented by attorney Michael Griesbach.
2016 - 2021 Kathleen Zellner investigation
[
]
In January 2016 postconviction attorney Kathleen Zellner took Steven Avery's case following its portrayal in the Netflix series Making a Murderer. Throughout her representation Zellner has been very vocal on social media about the case, which includes tweets about Colborn and the cops. Some examples include:
#Makingamurderer is a simple recipe; a tablespoon of your blood planted by cops in victim's car blended with false confession of slow teen.
Yesterday: in bedroom where key was "found." Room is so small could not have missed unless they searched w/eyes closed. #MakingAMurderer
Police reports: Only SA suspect but BIG RED FLAGS on others. Must have to do w/BIG GREEN DOLLARS. #MakingAMurderer
Theresa's car was locked when it was found. Killers don't do that-- preserves the evidence. Kinda obvious who locked.‪#MakingAMurderer
Colborn testified he told Kucharski: "Get a photo of this (key) right away." Guess he knew it had wings. #MakingaMurderer.
In her tweets Zellner was suggesting the cops were involved with planting the RAV4, the blood inside the RAV4, and the key to the RAV4 inside Avery's trailer. Their motive was the civil lawsuit. Later, Zellner apparently changed her mind about the blood planting theory, tweeting:
Experts experiments confirm SA's trial attorneys correct about blood being planted but incorrect about how it was done. #MakingAMurderer
In June 2017 Zellner filed her Motion for Post-conviction Relief in which she presented Steven Avery had re-opened an old wound on his finger three days after the disappearance of Halbach and subsequently bled in a sink in his laundry room. According to Avery the blood was cleaned up the next time he saw the sink. Zellner claims someone snuck inside Avery's trailer, stole the blood and planted several drops in the RAV4. Zellner hinted Teresa's friend and former boyfriend Ryan Hillegas was the one to steal the blood from the sink, thereby seemingly eliminating Colborn (or Lenk) as those responsible for the blood in the car.
In that same motion Zellner noted her team was unable to replicate the discovery of the car key in Avery's trailer.
In her October 2017 Motion for Relief Zellner presented an an affidavit of a man who claimed to have seen the RAV4 and informed Colborn about it before it was found on the Avery property.
In November 2018 Zellner tweeted she ruled out the police planted blood in the RAV4, saying it must have been someone (Bobby) who knew the blood in the sink was from Steven and not someone else.[72] This eliminated Colborn as a suspect (in Zellner's case) in the blood planting scenario.
In a December 2018 interview with Newsweek, Zellner claimed it was because of her and her team's efforts that the cops were cleared of planting blood, bones, license plates and electronic devices of Teresa Halbach.[73] Leaving the key, the RAV4 and the bullet as possibly being planted by the cops. With regards to the bullet Zellner claimed in Making a Murderer episode Item FL that "someone" took a bullet out of the wall of Steven's garage and put Halbach's DNA on it. She doesn't point the finger at anyone specific, but claims the DNA came from Halbach's chapstick which was had been collected as evidence by Calumet County officers.
In a March 2021 interview on YouTube Zellner said she had tested the age of Avery's blood found in the RAV4 and the result was that it belonged to someone who was 43 years old, meaning the blood was fresh at the time and did not come from the 1996 blood vial. This excluded Colborn, or any cop from planting the blood in the RAV4.
In April 2021 Zellner posted on Twitter that "tomorrow you will find out who really planted the RAV4", and added the hashtag "MysterySolved". The next day Zellner filed a motion stating a witness had come forward who claimed he saw Avery's nephew Bobby Dassey push the RAV4 down Avery Road to Avery's Auto Salvage. With this Colborn is eliminated is a potential suspect of planting the RAV4.
Andrew Colborn timeline
[
]
1959 Colborn was born in March;
1980's Colborn joined the US Air Force;
1985 Penny Beerntsen is sexually assaulted on Lake Michigan beach. Steven Avery is convicted;
1992 Colborn leaves the US Air Force;
1992 Colborn joins MTSO as a non-sworn corrections officer;
1994 or 1995 Colborn receiveda call from a detective outside the Manitowoc area who said they had someone in their custody who may have committed a crime MTSO may have someone in custody for. He gave the detective a phone number of one of MTSO's detectives. He then forwarded the phone call;
1996 Colborn becomes a sworn law enforcement officer with the MTSO.
2003 one day after Steven Avery is released. Colborn discusses the phone call with his captain, James Lenk. At the advice of Lenk, Colborn writes a

statement

about his phone call transfer in the mid nineties.
13 October 2005 Colborn testifies in Avery's deposition;
3 November 2005 - Colborn attempts to visit Chuck Avery after a photographer had been reported missing earlier that day. When he arrived at Charles' residence Steven Avery approached him. Steven told Colborn that Teresa was at the Avery Auto Salvage about 15:00 hours on Monday and that he saw her out the window taking photos of his sister's van. He further stated he never talked to her. When Colborn asked if he knew where she was going next Steven said again he never talked to her. Colborn then left the salvage yard and shared this information with Calumet County who wrote a report about it.
3 November 2005 (uncertainty) - Colborn calls dispatch to, as he says, confirm whether he had remembered correctly information he received from Mark Wiegert, being the license plate number of Teresa Halbach's RAV4, the car's year and make.
5 November 2005 - Colborn finds leg irons and hand cuffs in Steven Avery's bedroom.
8 November 2005 - Colborn finds .22 bullets in a record cabinet in Steven Avery's bedroom. After Colborn was done with searching the record cabinet and continued his search elsewhere in the bedroom, James Lenk notices a Toyota car key close to the record cabinet. The key is collected, but the three officers, Colborn, Lenk and Kucharski, are not sure about how that key got there.
May 2006 - Colborn writes a report about his involvement in the Avery case at the request of Calumet.
20 February 2007 - Colborn appears as a witness at Steven Avery's trial.
Trivia
[
]
Colborn's statement about the mid 90's phone call was not kept in a sheriff's safe to cover up his knowledge about Avery's wrongful conviction (which is what is alleged by

Stephen Glynn

in Making a Murderer season 1).
References
[
]
↑ Avery Trial Transcripts, day 7 - testimony of Andrew Colborn, page 65
↑ Avery Trial Transcripts, day 7 - testimony of Andrew Colborn, page 66
↑ Avery Trial Transcripts, day 7 - testimony of Andrew Colborn, page 139
↑ Avery Trial Transcripts, day 7 - testimony of Andrew Colborn, page 68
↑ Avery Trial Transcripts, day 7 - testimony of Andrew Colborn, page 69
↑ CASO Investigative Report, page 2
↑ Avery Trial Transcripts, day 7 - testimony of Andrew Colborn, page 74
↑ Avery Trial Transcripts, day 7 - testimony of Andrew Colborn, page 75
↑ Avery Trial Transcripts, day 7 - testimony of Andrew Colborn, page 79
↑ Avery Trial Transcripts, day 7 - testimony of Andrew Colborn, page 80
↑ Avery Trial Transcripts, day 7 - testimony of Andrew Colborn, page 81
↑ Avery Trial Transcripts, day 7 - testimony of James Lenk, page 228
↑ Avery Trial Transcripts, day 7 - testimony of James Lenk, page 231
↑ Avery Trial Transcripts, day 7 - testimony of James Lenk, page 234
↑ Avery Trial Transcripts, day 7 - testimony of James Lenk, page 235
↑ Avery Trial Transcripts, day 8 - testimony of James Lenk, page 8
↑ Avery Trial Transcripts, day 7 - testimony of Andrew Colborn, page 82
↑ Avery Trial Transcripts, day 7 - testimony of Andrew Colborn, page 85
↑ Avery Trial Transcripts, day 7 - testimony of Andrew Colborn, page 86
↑ Avery Trial Transcripts, day 7 - testimony of Andrew Colborn, page 87
↑ MTSO Summary Report on Homicide Investigation, page 9
↑ Avery Trial Transcripts, day 7 - testimony of Andrew Colborn, page 91
↑ Avery Trial Transcripts, day 7 - testimony of Andrew Colborn, page 93
↑ Avery Trial Transcripts, day 7 - testimony of Andrew Colborn, page 95
↑ Avery Trial Transcripts, day 7 - testimony of Andrew Colborn, page 98
↑ Avery Trial Transcripts, day 7 - testimony of Andrew Colborn, page 100
↑ Avery Trial Transcripts, day 7 - testimony of Andrew Colborn, page 102
↑ Avery Trial Transcripts, day 7 - testimony of Andrew Colborn, page 104
↑ Avery Trial Transcripts, day 7 - testimony of Andrew Colborn, page 106
↑ Decision and Order on Defendant's Motion to Suppress Evidence Based on Multiple Entries Under the November 5, 2005 Search Warrant, page 10.
↑ Avery Trial Transcripts, day 7 - testimony of Andrew Colborn, page 107
↑ Avery Trial Transcripts, day 7 - testimony of Andrew Colborn, page 116
↑ Avery Trial Transcripts, day 7 - testimony of Andrew Colborn, page 117
↑ 43.0 43.1 Decision and Order on Defendant's Motion to Suppress Evidence Based on Multiple Entries Under the November 5, 2005 Search Warrant, page 14
↑ Avery Trial Transcripts, day 7 - testimony of Andrew Colborn, page 118
↑ Avery Trial Transcripts, day 7 - testimony of Andrew Colborn, page 119
↑ Avery Trial Transcripts, day 7 - testimony of Andrew Colborn, page 121
↑ Avery Trial Transcripts, day 7 - testimony of Andrew Colborn, page 122
↑ Avery Trial Transcripts, day 7 - testimony of Andrew Colborn, page 123
↑ Avery Trial Transcripts, day 7 - testimony of Andrew Colborn, page 127
↑ Avery Trial Transcripts, day 7 - testimony of Andrew Colborn, page 129
↑ Avery Trial Transcripts, day 7 - testimony of Andrew Colborn, page 131
↑ Avery Trial Transcripts, day 7 - testimony of Andrew Colborn, page 134
↑ Avery Trial Transcripts, day 7 - testimony of Andrew Colborn, page 137
↑ CASO Investigative Report, page 148
↑ Decision and Order on Defendant's Motion to Suppress Evidence Based on Multiple Entries Under the November 5, 2005 Search Warrant, page 15
↑ Avery Trial Transcripts, day 7 - testimony of Andrew Colborn, page 149
↑ Avery Trial Transcripts, day 7 - testimony of Andrew Colborn, page 163
↑ Avery Trial Transcripts, day 7 - testimony of Andrew Colborn, page 164
↑ Avery Trial Transcripts, day 7 - testimony of Andrew Colborn, page 184
↑ Avery Trial Transcripts, day 7 - testimony of Andrew Colborn, page 190
↑ Avery Trial Transcripts, day 7 - testimony of Andrew Colborn, page 197
↑ Avery Trial Transcripts, day 7 - testimony of Andrew Colborn, page 199
↑ Avery Trial Transcripts, day 7 - testimony of Andrew Colborn, page 214
↑ Plaintiff's Brief in Opposition to Netflix Inc.'s Motion to Dismiss, page 2